SR662
Regular price
Sale price
€4.800
Unit price
per
Sale
Sold out
Our Heavy Metal Record Stand is a gunblack cantilevered object, plasma-cut from 2mm S725 British steel, hydraulically precision folded, and finished with acid and wax, for the storing and accessing of your international-standard vinyl LP collection.

One color option is available – a black patina accelerated from the loss of electrons amid a state induced by the reckless transfer of acid compounds.

The stand holds approximately 150 Lp's.
Assembled from 5 pieces, weighs 8kg, comes with horse skin leather feet.

This object is made from steel and comes flat-packed. Minor assembly is required using the bolts and hex key provided. Illustrated instructions are included in the booklet packed with the product.

An order of 2 pieces attracts a 20 percent discount.

Assembly

This object is made from steel and comes flat-packed.
Minor assembly is required using the bolts and hex key provided.
Illustrated instructions are included in the booklet packed with the product.

Usage

This object is crafted from high-quality S725 steel that has been carefully surface treated for an ominous finish. Please note that while the blackened finish is designed to withstand everyday wear and tear, steel is a hard and sharp material that can cause injury or damage surfaces it meets.
Use caution when handling and placing the stand.

The rolled steel used in this product is sourced from our unflag Earth and transformed through plasma cutting and hydraulic folding. The resulting oxidized black finish is designed to change and evolve over time, based on your usage and environmental conditions.
The natural patina of the metal may gradually wear or become more pronounced, revealing new details and adding character to the object.

Please note that in some situations, the black finish may polish away or reveal different colors of the metal. This intentional design element adds to the uniqueness of each piece.

While the steel used in this stand may express rust as a protective layer, efforts have been taken to minimize this. Please keep in mind that steel is still prone to environments and may develop rust over time, adding to its industrial character.

Be aware that steel is a sharp material that can cut skin, paper, and mark surfaces that encounter it. We have made efforts to dull sharp edges but use caution when handling the stand.

Leather pads have been provided to cushion the weight of the stand and the records placed on it, helping to protect the surface it rests on. However, please note that this is a very heavy object that may cause some indentation or marking of the surface it rests on.

The patina of the metal may change, and new details may be revealed over time through usage, friction, and environmental factors, further adding to the object's unique character.
Care

To keep your record stand looking its best, we recommend the following maintenance:

Steel cleaning: Wipe the surface clean with a soft, dry cloth to remove any dust or dirt. Avoid using abrasive cleaners or harsh chemicals, as these can damage the blackened finish.

Record stand cleaning: Use a soft, dry cloth to wipe down the surface and remove any dust or debris. Avoid using harsh chemicals or abrasive materials, as these may scratch the metal or damage the finish.

Blackened finish maintenance: Apply a thin coat of wax periodically using a soft cloth to protect the surface and keep it looking its best. We recommend using paste wax satin finish. Wipe down the steel with a dry cloth to remove any dust or dirt, then apply a thin, even layer of wax following the direction of the grain. Leave for 30 minutes, then buff the entire surface with a new, clean cloth.

Raw steel maintenance: All steel parts with a raw finish will need to be waxed every 12 months (depending on humidity) to protect the steel from oxidation. The aforementioned furniture wax can be used for this purpose.

Sun and temperature protection: Keep the record stand away from direct sunlight and extreme temperatures to prevent warping or other damage to the vinyl records.

By following these care instructions, you can ensure that your record stand will look dope through the nuclear winters and the vacuum of summer providing support for your vinyl collection and associated dependency.

Due to the nature of the manufacturing process, variations in color and steel patterns are possible. Additionally, minor scratches and marks from the metal press may be present.

No two stands are the same
View full details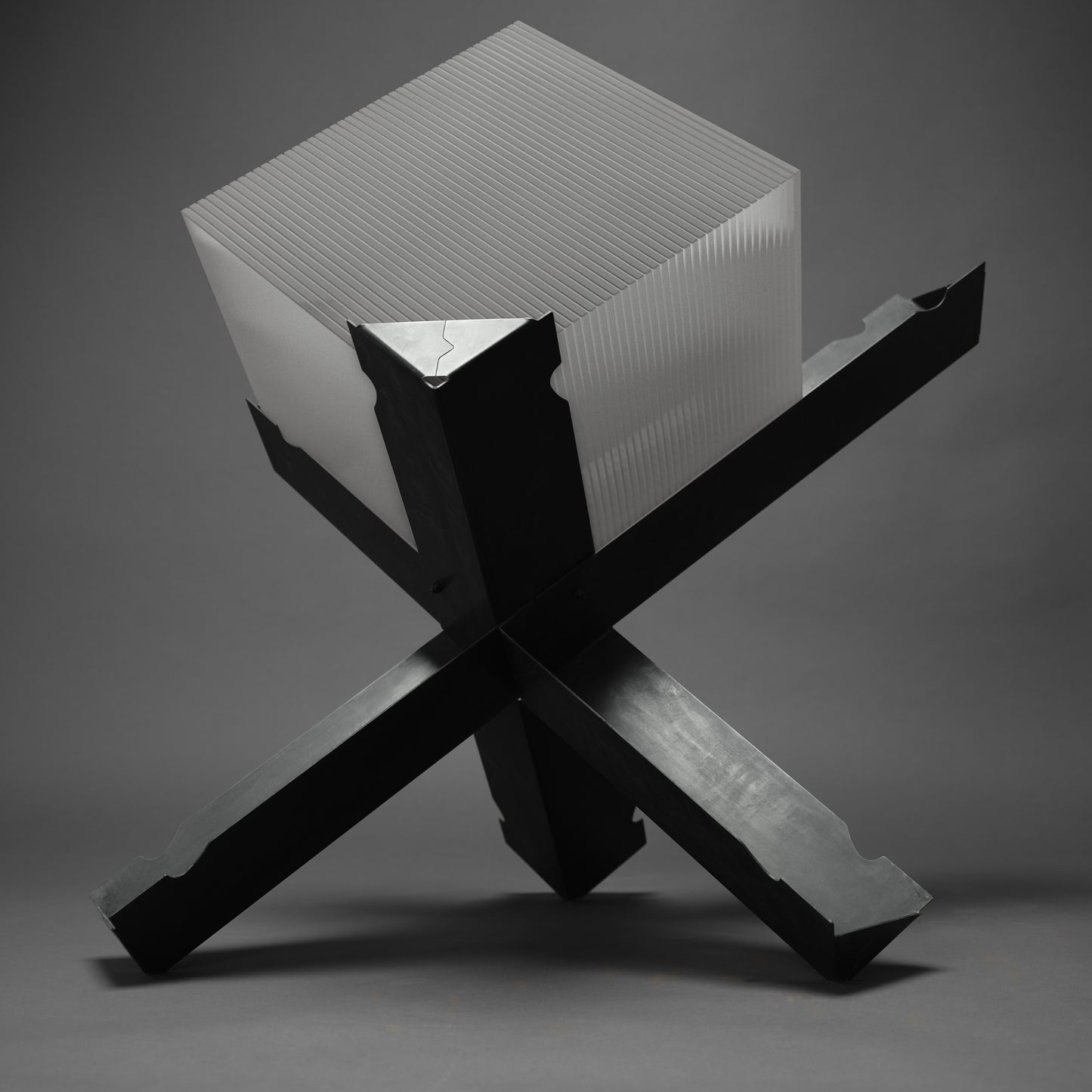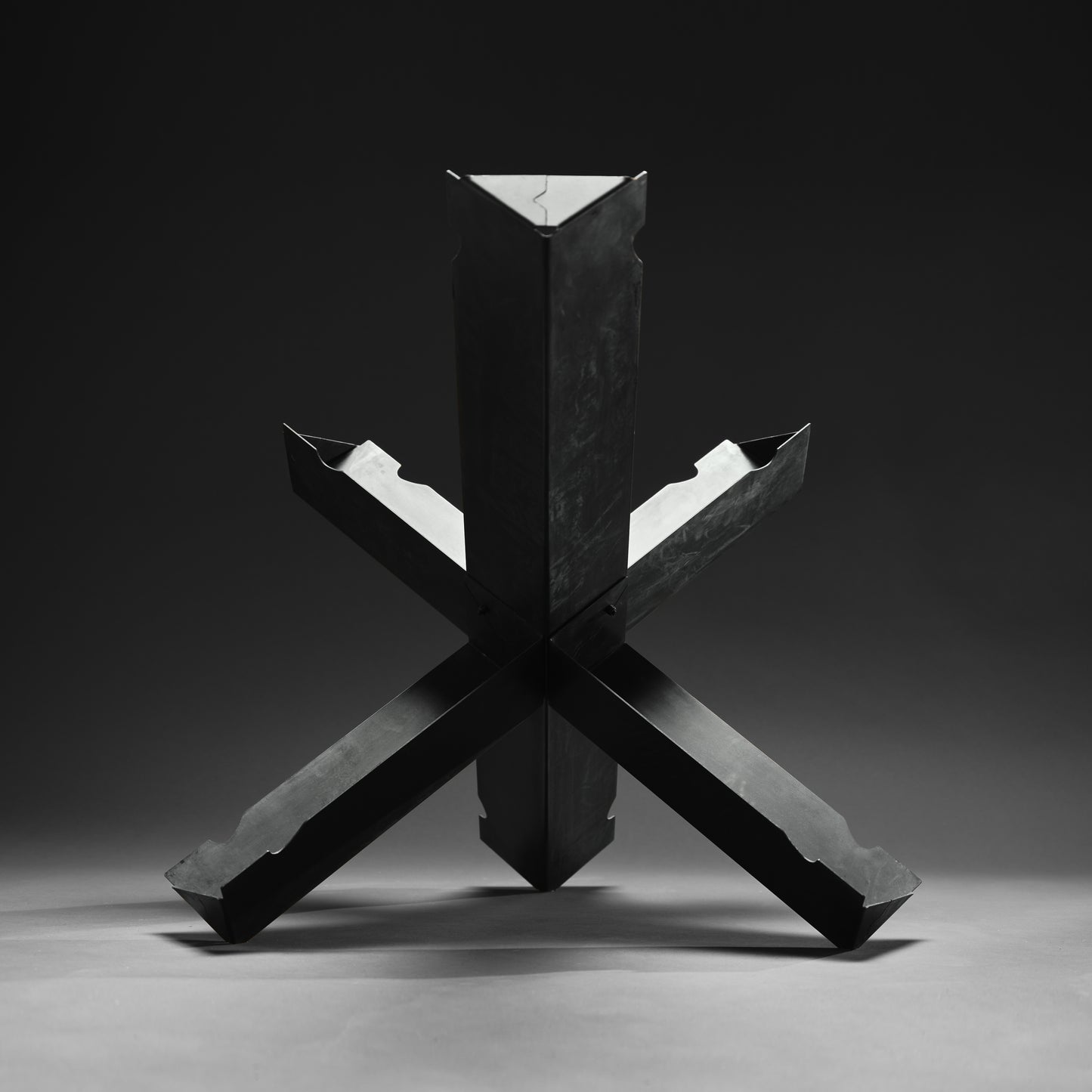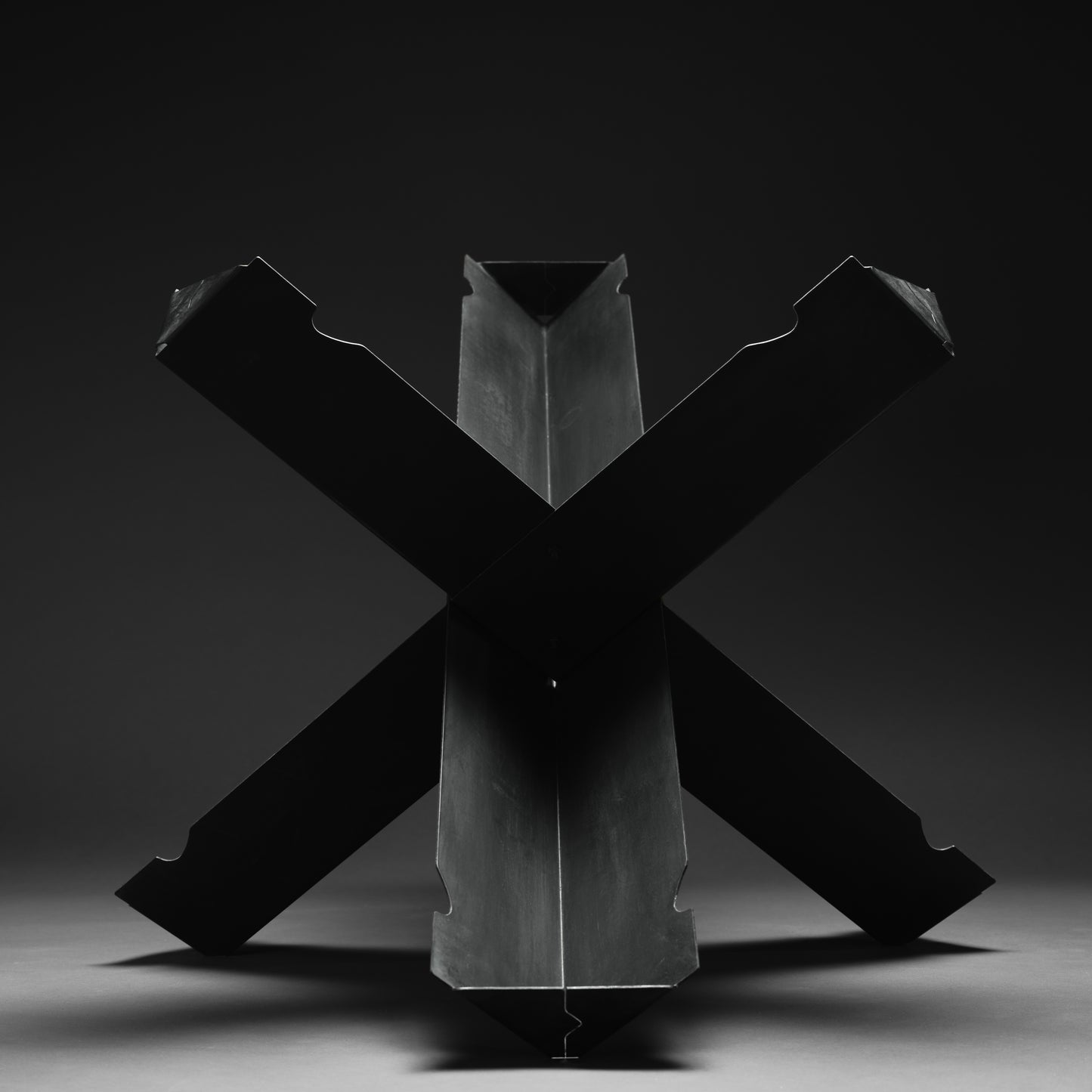 To bring this form out of the Grid and into the tactical reality of your solipsistic presence, we export the numeric data using the latest versions of licensed 3D software, to the native file wild-types of our intricate robotic assistants.

In escaping the hold of that digital grip, we use plasma cutting technology to precisely define each piece of your record stand from 2mm steel, making the holes for threaded construction, and logo mark engraving.
A hydraulic press machine is then employed to create a distinct balance for cantilevered construction - the CNC bending force folds the pieces from their rolled flat state, to a 90° angle with 5mm radius.

After this series of aggressive origami turns, and the machine stage fabrication process complete, the parts are taken by hand, taming the edges with a fine grit paper, running them by hand along the razor edges to prepare it for human touch and treatment.


The steel is slowly cleaned with acetone and treated with acid to affect a muted sleek finish, revealing texture and patination from the metal. Finally, a wax coating is applied to further protect and enhance the appearance of the steel - resulting in this demanding object that provides a semi-functional solution for storing your important vinyl record collection.

This is a precisely imperfected object.
A mostly practical and dramatic, overcast, presence.
And, where Function follows form, phenomenally unbreakable.

As is the nature of organic material in cataclysmic collision with digitized fabrication lacking human-in-the-loop, each object will vary slightly in production - The quirks by robots are more human than human assembly lines.
Materials and techniques that attract these variations are by design and by desire.

Shipping and Production

HEAVY METAL RECORD STAND is produced in the United Kingdom, and shipped directly from the workshop it is made in, by courier.

Exchanges

We want you to choose carefully and make sure this is something you want.

Consider the environmental costs before changing your mind.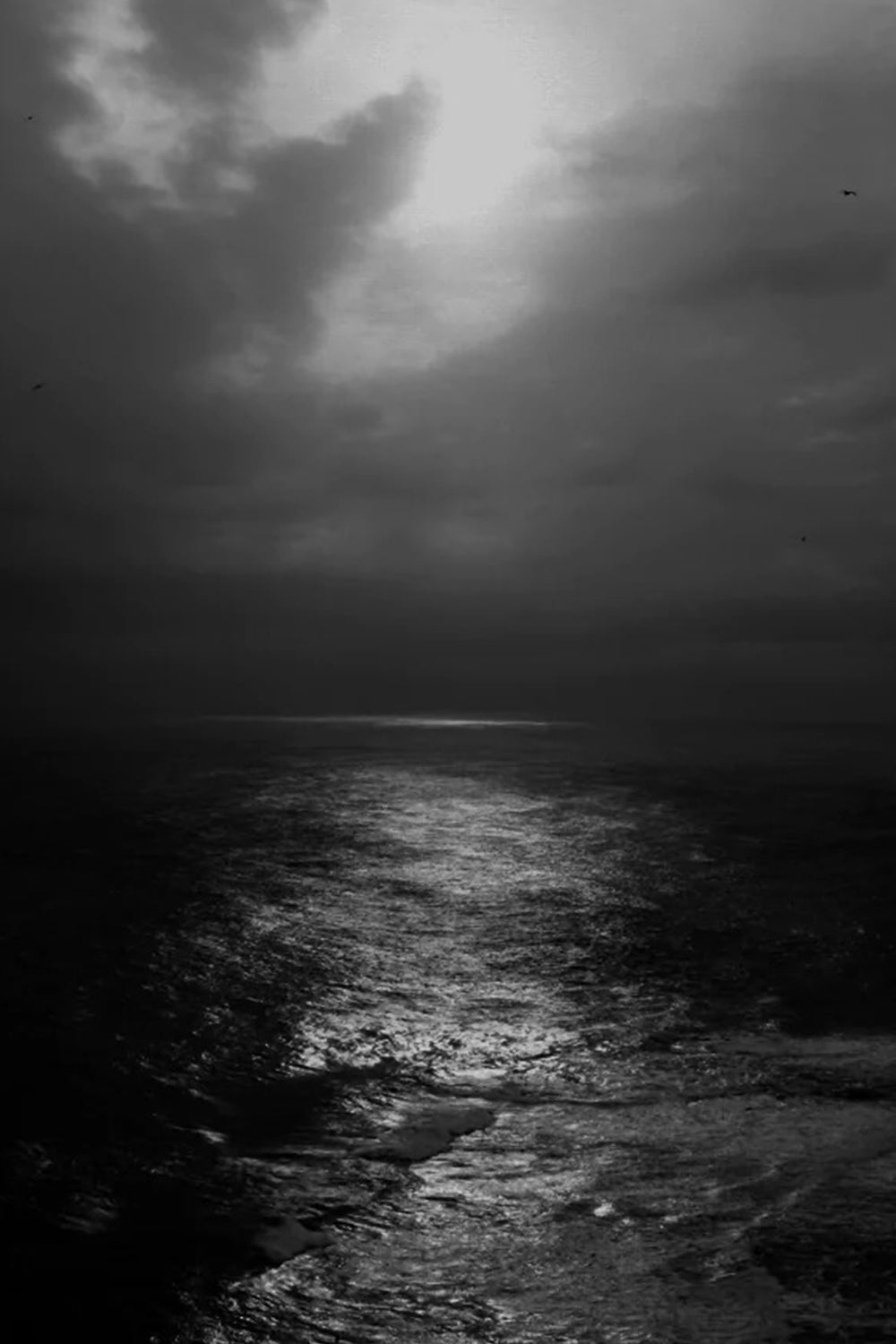 THIS EDITION
ABOUT HEAVY METAL RECORD STAND

The heavy metal record stand was originally made in 2010, in Iceland, and released with the collection for the autumn and winter 2013:

CONCENTRATED
completely burned
my city overturned
spurned

It is an outcome of selective amnesia, a childhood wading in the memories of the survivors, and the administration of music to rebuild the soul.

The Heavy Metal Record Stand is a nuanced blend of precision engineering, material manipulation, and the release of epigenetic emotional trauma.
Structurally evolved from the rude, tank resistance-aesthetics, the stand is a semi-functional work that heightens the experience of vinyl record storage.

To update this item for the year 2023, it is now made in the United Kingdom by our man William, in his British workshop, from provincial steel, plasma cutting, hydraulics, oxide inducing acids, wax, and a rare human fortitude in the form of caloric energy and determination.
One color option is available – a black patina accelerated from the loss of electrons amid a state induced by the reckless transfer of acid compounds.

The stand can hold up to 150 LP's and is assembled from 5 precision-folded pieces. It is delivered flat-packed, and assembly is required using the bolts and hex key provided.
Horse skin leather pads are included to protect your surfaces.

The stand was initially developed by folding layers of card over right angle surfaces, creasing, slotting by presence of blade, and then moving to CAD systems fairly early in the process. Only a few lazer cut card version were made before jumping straight to full size. The initial version was produced from corten steel for its rust surface quality, as the electrons move to protect the body from the air.

The design has not been altered from the first version, save for the addition of the logo, this new object has been formed from the updated legacy files.