SR108
Regular price
Sale price
€16.500
Unit price
per
Sale
Sold out
ÍSBJÖRN, translating directly as Ice Bear, is a three meter long Arctic bear rug, made from 15 heritage lamb skins of incredibly long fur regionally sourced in Iceland, tanned seasonally, and assembled with hand bound detailing, and glass eyes by master furriers in Copenhagen.

Constructed from chrome tanned skins, and real fur, the colossal rug weighs 8 kilos, with a total area dimension of 300 x 245 cm and is presented folded and placed in a custom box.

This grounding object tethers you to your space, anchoring you to the floor, for fostering those moments of togetherness.
One color option is available, a white that expresses a yellow hue over time as exposed to fluctuating packets of photons.
Each piece is numbered and presented in a custom box.
No two bears are the same.
Care

The exceptional qualities of Icelandic lamb skin and wool deserve special care to maintain their unique attributes.

Dry cleaning is not recommended, as it strips the natural oils from the skin and wool, leaving them scratchy and rough.

Instead, gentle wool cleaners are advised for cleaning these pelts, preserving their softness and luster.

Icelandic wool is renowned for its extraordinary properties. It is remarkably lightweight, yet offers unparalleled warmth, water-resistance, and flexibility.

Though slightly organic to the touch, it provides an enveloping warmth that is truly remarkable.

Further care and cleaning information is provided on request.
Material

Pure descendants of the same stock as the Norwegian Spelsau, the Icelandic sheep were brought to Iceland by the Vikings before 900 BCE. For over one thousand years, these resilient sheep have been bred unmixed in a harsh and bitter environment, thriving as efficient herbivores, adapting to their challenging surroundings in the barren moss-fields of Iceland.

During the winter, the sheep are left to roam uncut, resulting in wool lengths of up to 200 mm.
Their fleece is unique, comprising dual-coated fibers: coarse and fine.
Tog, the outer coat, is a durable medium wool (27 micrometers in diameter) used for weaving, known for its length, glossiness, toughness, and water resistance. The inner coat, Thel, is finer at around 20 micrometers.

This robust and insulating wool offered the Vikings exceptional resistance to the cold throughout their lives as makers of the Sagas.
View full details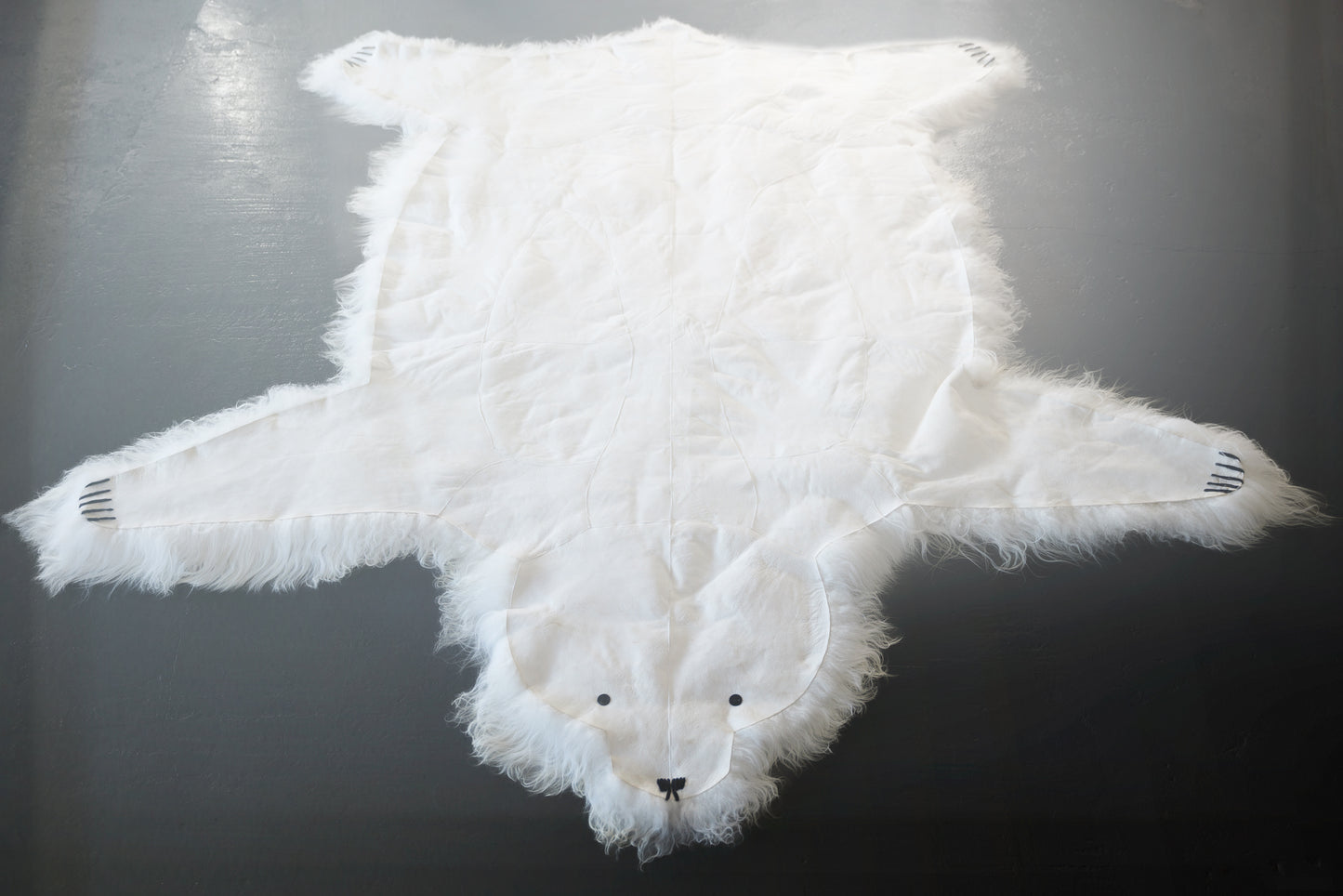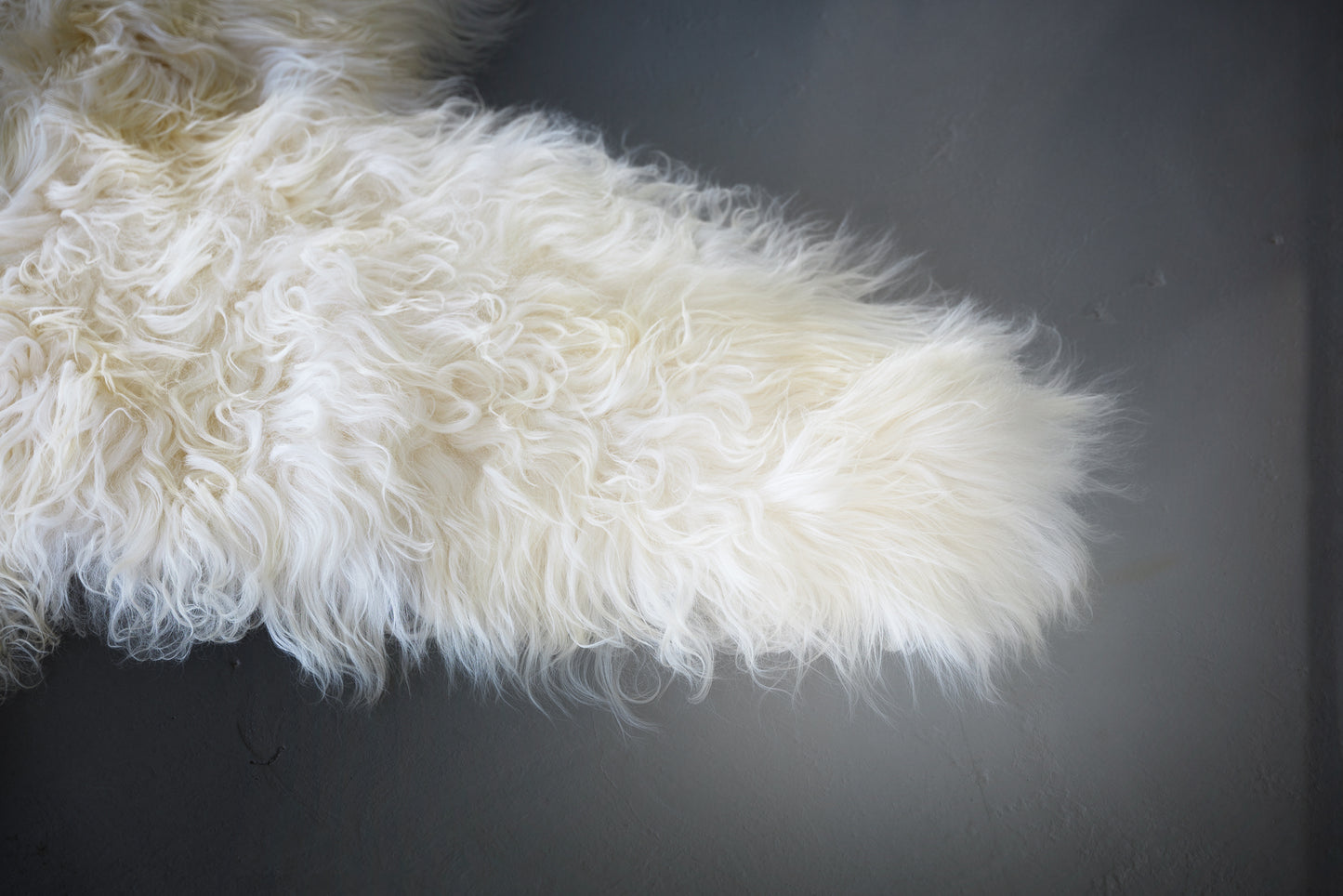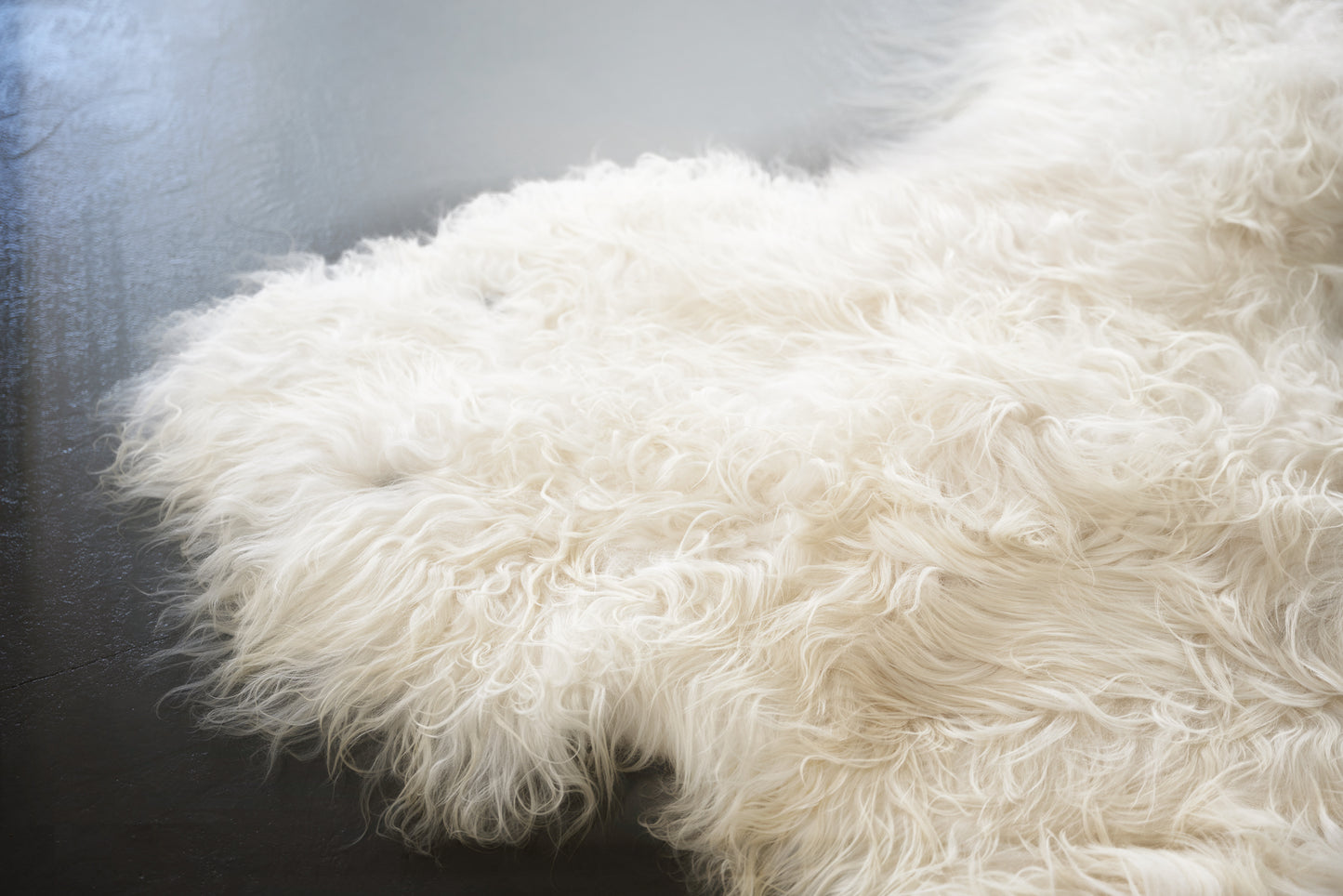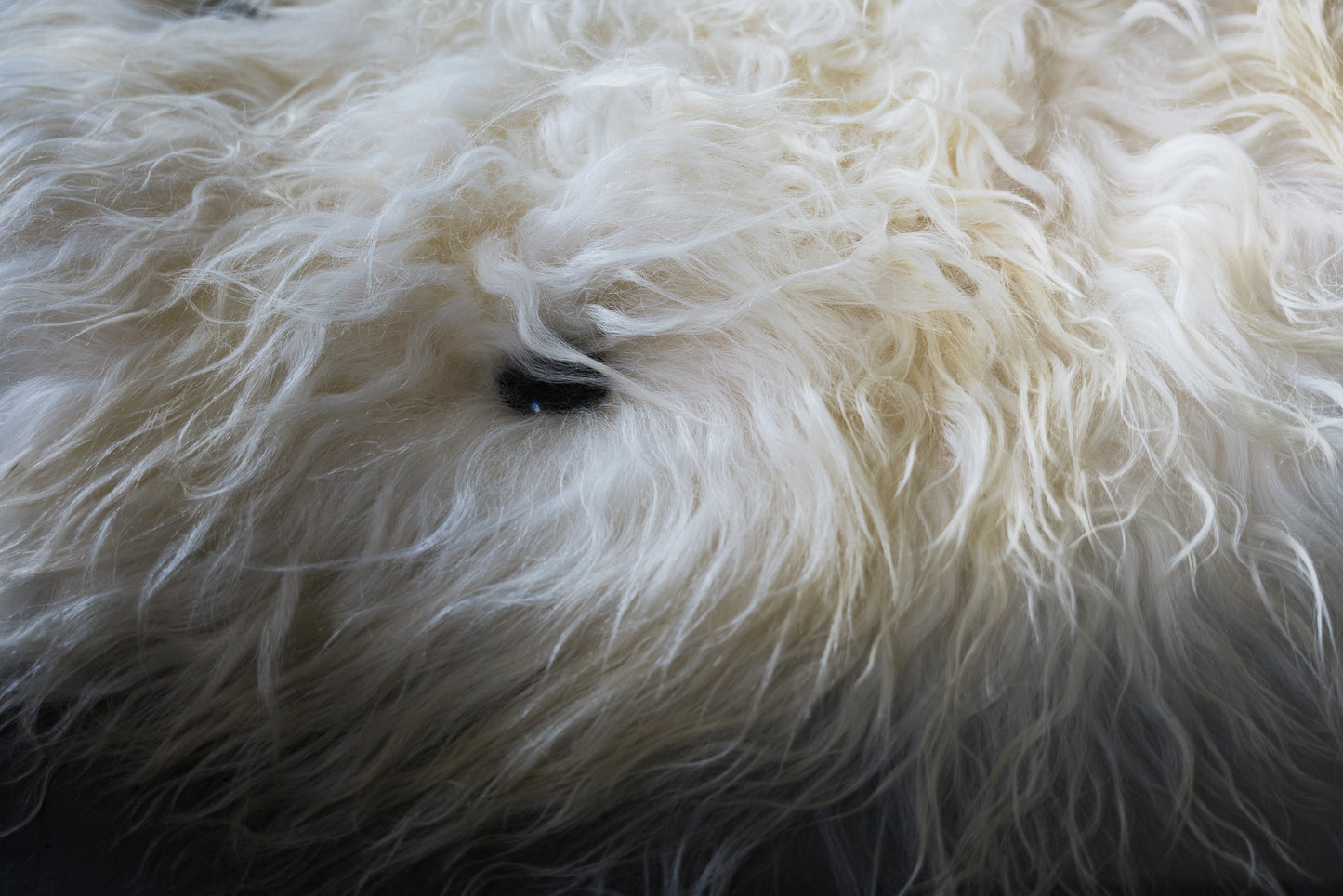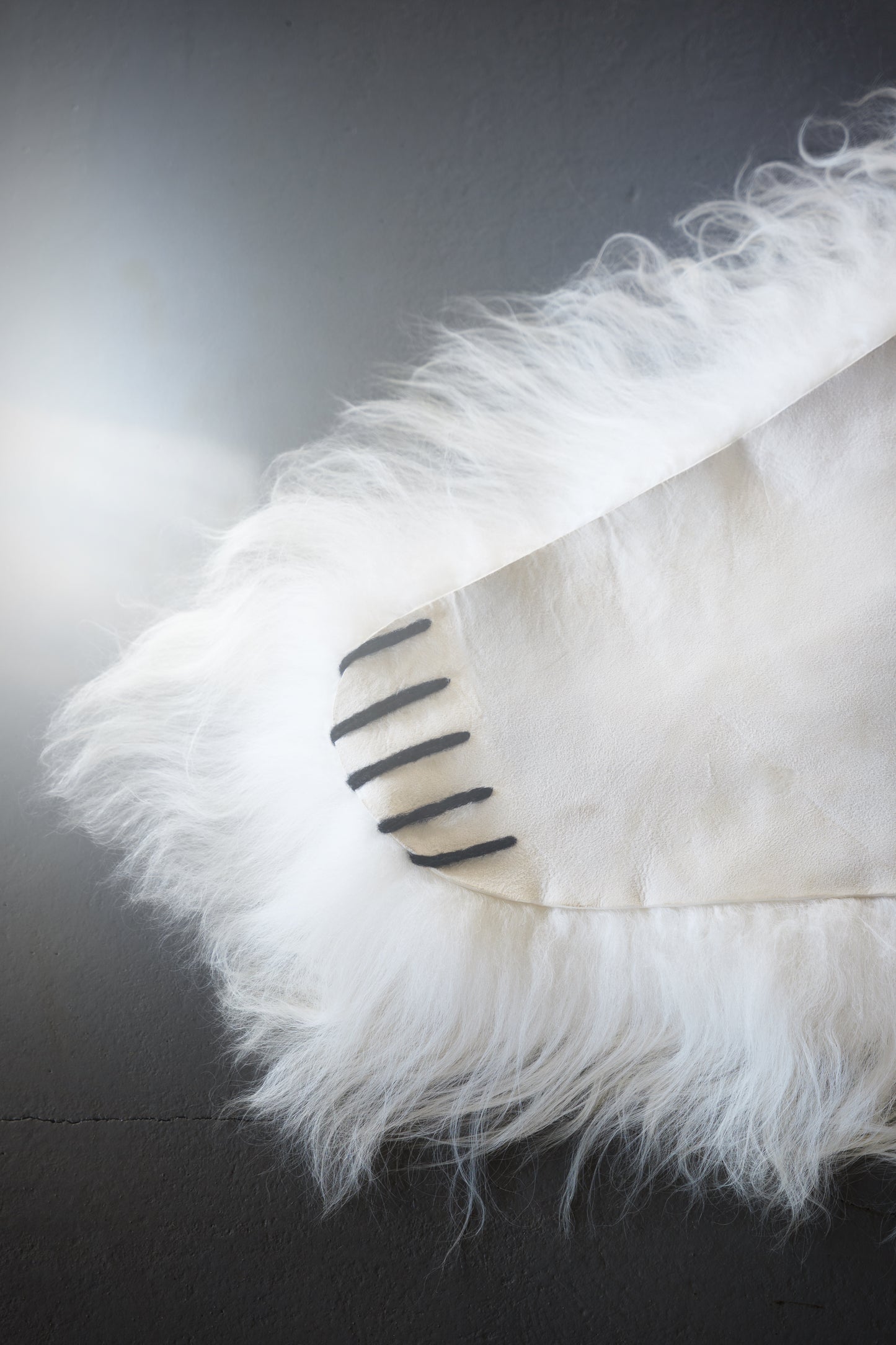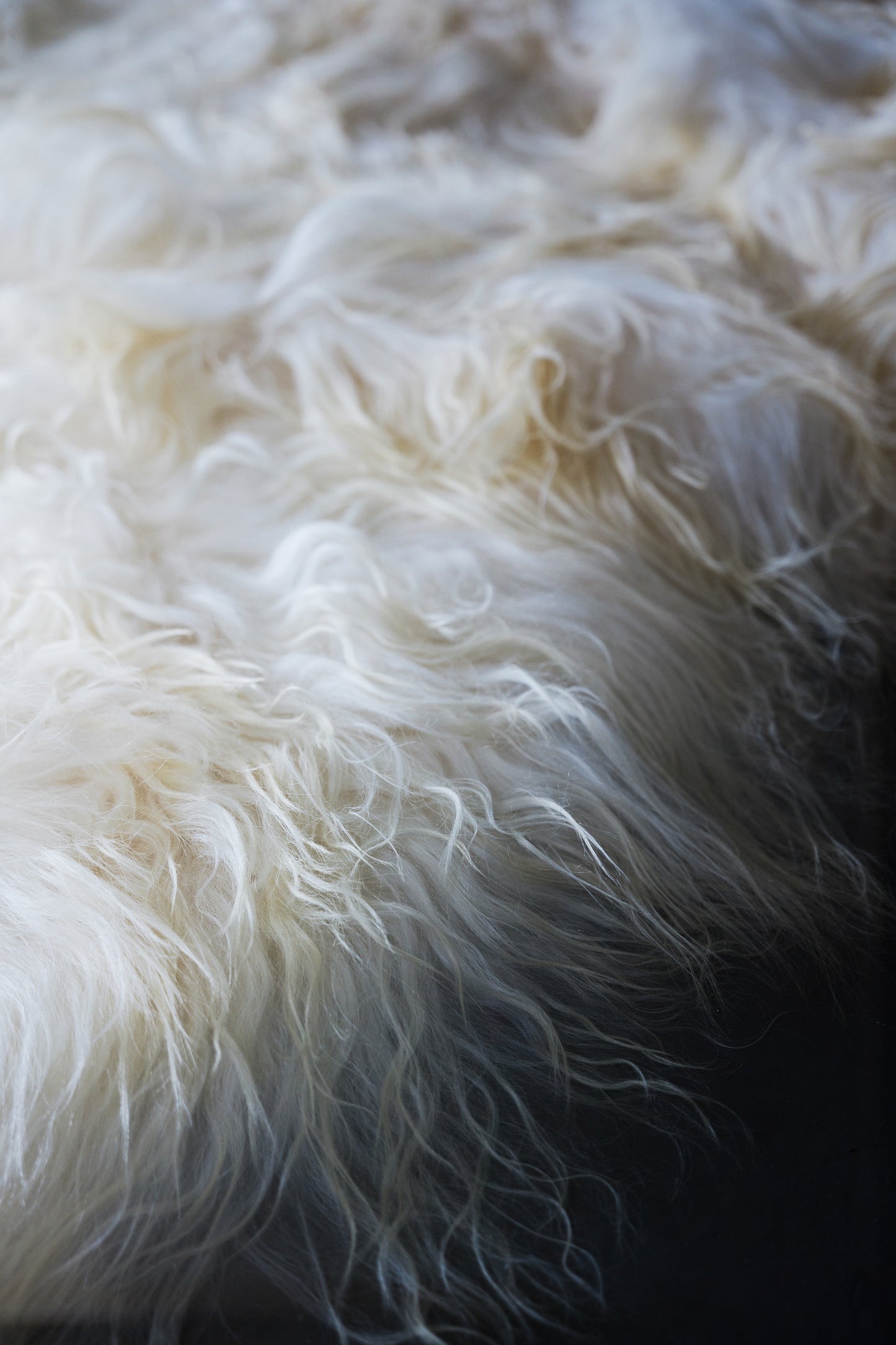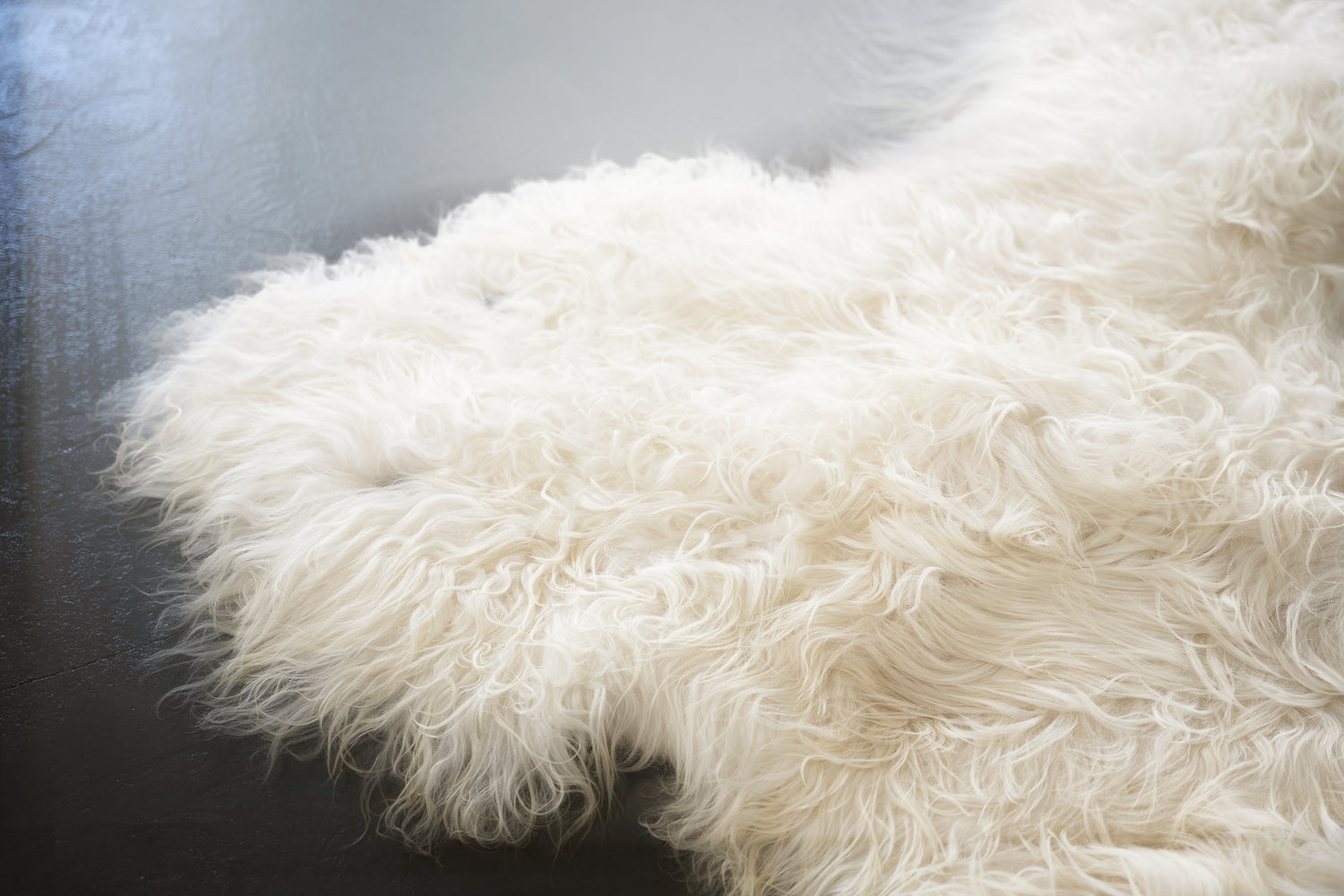 GRAVITAS
And so, welcome to the surface, where this giant object finds its place. During the creation of this item, the focus centered around questioning the luxury industry, waste, and the commodification of flesh.
It sought to mirror the graphic illustrations of meat cut diagrams, exposing the segmentation of the body into products.
Similarly, it drew parallels with fur garments, where the seamless fur on the outside is pieced together from many smaller scraps—a striking contrast to the idea of a single large luxurious fur. Here, the question is raised: is the whole truly greater than the sum of its parts?

The dichotomy between luxury and byproduct, urges us to reconsider traditional notions of value. This diagrammatic form shifts our perception of the discarded as valuable by revealing practices that often lie beneath the surface.
Shipping and Production

ÍSBJÖRN is produced in Denmark, from Icelandic lamb skin, and shipped directly from the workshop it is made in, by courier.
This is item is made to order only with a three week lead time.

Exchanges

This is a custom made piece.
We want you to choose carefully and make sure this is something you want.
AT THE CENTRE OF MASS

The process of constructing the ÍSBJÖRN involves skilled craftspeople and materials sourced from different regions:

Fifteen skins are carefully cut by a master furrier using a sliding blade method, ensuring only the skin is cut, preserving the hairs intact.
These pieces are then seamlessly joined with a high-tension, single-thread lock stitch known as the "furrier stitch" method using a vertical seam fur machine.

Custom-made glass eyes from Texan specialists are arduously applied by hand and secured with laser-cut horse skin buttons.

The paw and nose details are carefully hand-sewn using natural black Icelandic lamb wool.

The ÍSBJÖRN itself is meticulously crafted from Icelandic lamb, their skins tanned in Latvia, and constructed in Copenhagen, Denmark.

A custom-made box from fibre board and rivets, specifically designed to house the ÍSBJÖRN, is locally fabricated by ELVO, a renowned 100 year old Danish company revered for its quality craftsmanship.

The skins used in the ÍSBJÖRN's creation are in their natural white color, undyed, expressing a unique white to yellow hue.


AN OBJECT ORIENTED SPECIES

It is an ancient practice, that of weaving grasses and wrapping ourselves in animal skins - an artifact of custom that has persisted throughout human history. It highlights the resourcefulness in utilizing every part of the hunt and that permanence of the skins shaped cultural practices, clothing, shelter, and myth.

The ÍSBJÖRN rug holds symbolism as a milestone, a rite-of-passage, representing the concept of objectifying life and branding animals as consumer resources, and serving as a reminder of civilization's complex relationship with nature and consumption behaviors.

The work challenges conventional notions of luxury and questions the waste associated with the leather and fur industry, visually alluding to old butchers' diagrammatic posters, to bring attention to the segmentation of the body into products.

The ÍSBJÖRN presses viewers to consider the intersections of crafting artwork, luxury, material byproducts, and the objectification of life, challenging traditional ideas of what constitutes a resource, exploring these discomfortable themes through the impact of its distinct and singular form.

As a large and tactile piece, the ÍSBJÖRN rug serves as a grounding object. It is designed to anchor individuals to their space and foster moments of togetherness on the ground.

The substantial size and representation of a large animal offer a sense of permanence, safety, and achievement.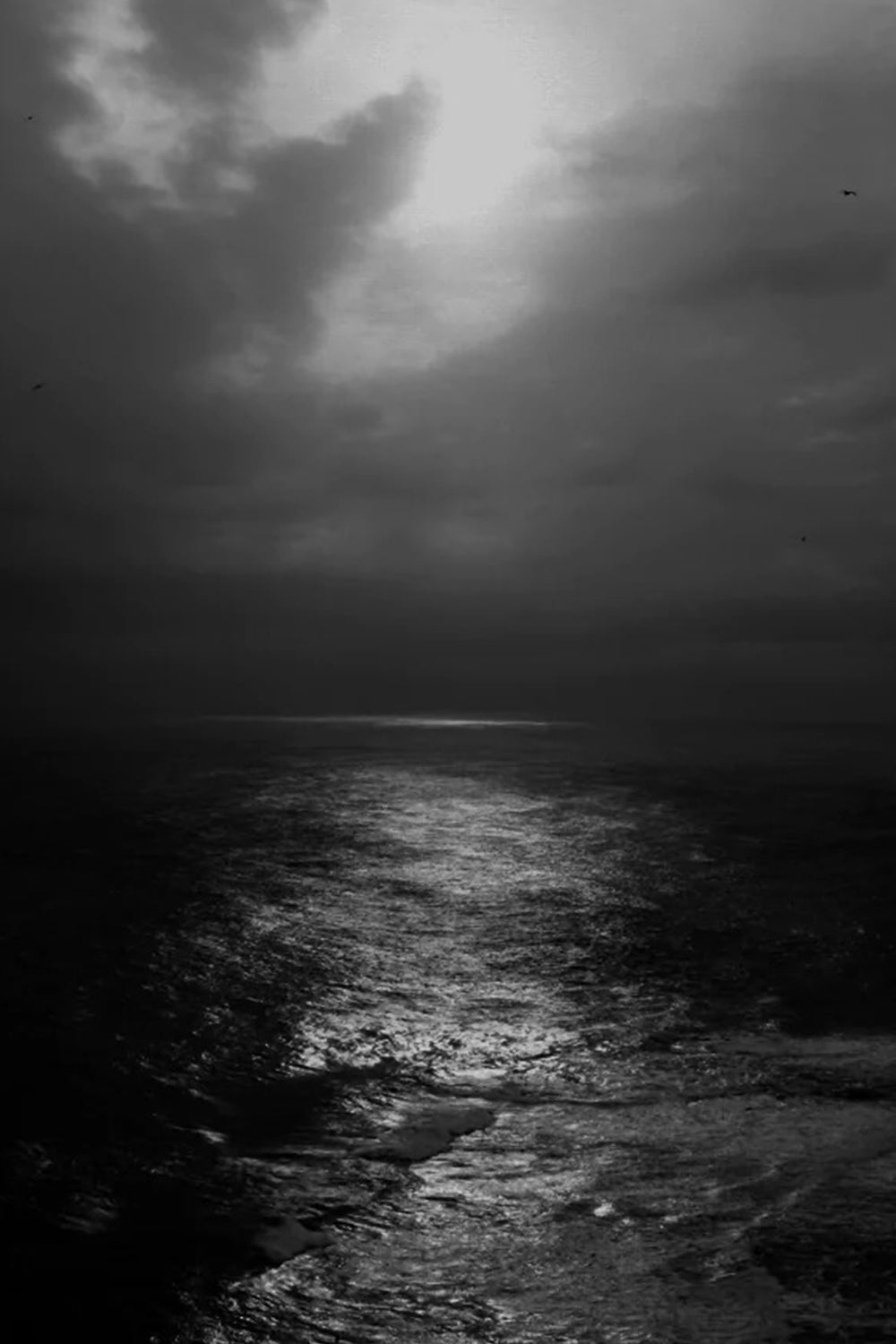 THIS EDITION
Originally commissioned in 2008 for Greenhouse studios, ÍSBJÖRN was made in our studio in Reykjavík as part of the Non-Products series, from locally tanned skin. For this edition, we produce in Denmark to create a limited made-to-order run - A new version identical to the previous.

The "Non-Product", a series explored the relationship between production materials and byproducts:

- A specially made low run piece,
- Either hand tooled or machine made,
- That would lose its context as a mass produced item,
- And is not viable to produce in large quantities,
- Or, an item that is in concept stage as a byproduct of the previous.

The ÍSBJÖRN incorporates elements of the meat industry, fur garments, and old butchers' diagrams. It prompts reflection on the resource materialization of flesh and challenges perceptions of luxury