SR701
Regular price
Sale price
€450
Unit price
per
Sale
Sold out
An Incense Object For Transitional Rituals.
ŌMNI listening object is a quartz sand platform, for the placing and burning of incense sticks.
This monument is activated for burn-affected listening, a memory device, a presence touchstone… and a temporal memorial to a heightened and opaque future.
Made from sand regionally sourced in Bavaria, ŌMNI is formed in a binder jet process with a biomaterial resin and made in one color - A black that expresses a brown hue over time as exposed to hard sunlight via radiation ultraviolet.
This item is produced in limited quantities.

Usage

Burn one stick at a time, using a combustible incense type of approximately 70mm in length.

Ignite the stick first and then lay it on the ŌMNI, placing it over the top ridges, lit end at the high point.

A smoldering ember desires air and space below it to burn - Give it that.

The stepped structure of ŌMNI is designed to stagger the burning period, rather than burn through the complete stick.

The segments reduce oxygen flow to slow down the ritual, extinguishing the ember at random intervals.

This delayed burning divides up the stick into intervals, both contracting the incense moment and reducing the amount of smoke and particles in the breathing air.

Note: If you want your incense to burn all the way through each time without exception, this is not the object you are looking for.
Care

The sand will brown at the points of contact with the incense, as is the nature of the effects of fire on organic material.

The stick can be pressed down at the bottom to lift it over the ridges to reduce this effect.

Clean remnant ash after each use and regularly remove resin build-up left by the stick.
If a build-up of incense resin occurs, it will inhibit the burning.

Clean the resin after use with hot [not boiling] water and dish detergent, using a scourer or firm bristled brush.
Steel wool or any hard and sharp tools should be avoided. This can leave scratches and potentially damage the surface.

To remove dust, we recommend using a soft brush.

Place out of direct sunlight if you would like to avoid noticeable UV discoloration.
View full details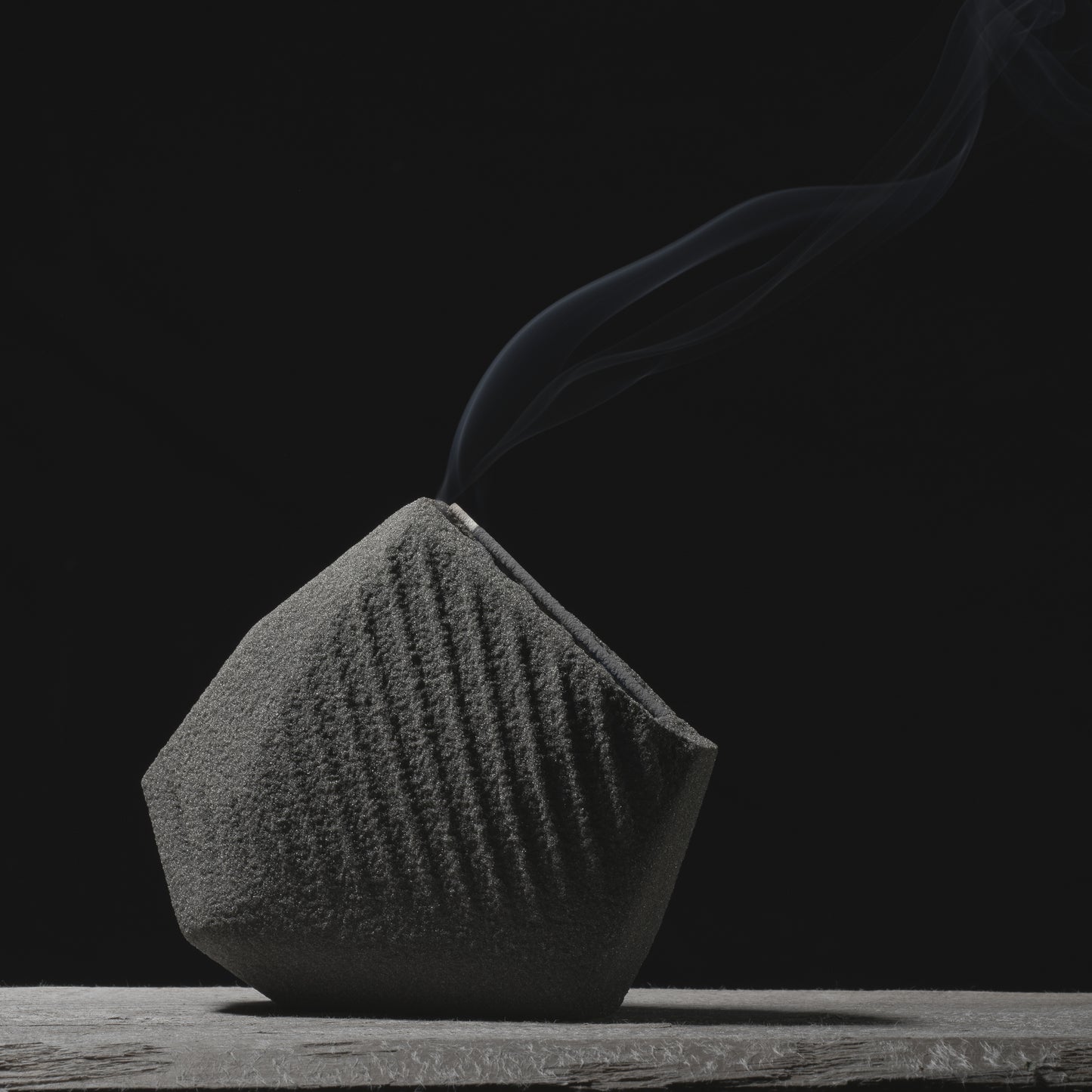 ŌMNI is formed from quartz sand regionally sourced in Bavaria, Germany.

Sand grains of consistent 0,18mm size are bound together in a binder jetting process employing a furan resin biomaterial, by deviating from a foundry casting method, in a surprisingly well-lit fabrication workshop in Germany.

The binder consists of two components that combine during the 3D printing process, hardening as the compounds embrace, cross-link, and having no agency or alternative, become eternally one.

This reactive process allows the sand to remain in its found raw grain structure over processing or melting to change it.
In their natural form, the grains have a familiar sand color until they change evermore as the binder oxidizes, shifting the sand color from a green immediately after printing to black.

As is the nature of organic material in cataclysmic collision with digitized fabrication lacking human-in-the-loop, each object will vary slightly in production - The quirks by robots are more human than human assembly lines.
Materials and techniques that attract these variations are by design and by desire.
Shipping and Production

ŌMNI is produced in Germany, and shipped directly from the workshop it is made in, by courier.
We produce with Sandhelden, a German company.

Exchanges

We want you to choose carefully and make sure this is something you want.

Consider the environmental costs before changing your mind.

Read the care and usage above carefuly.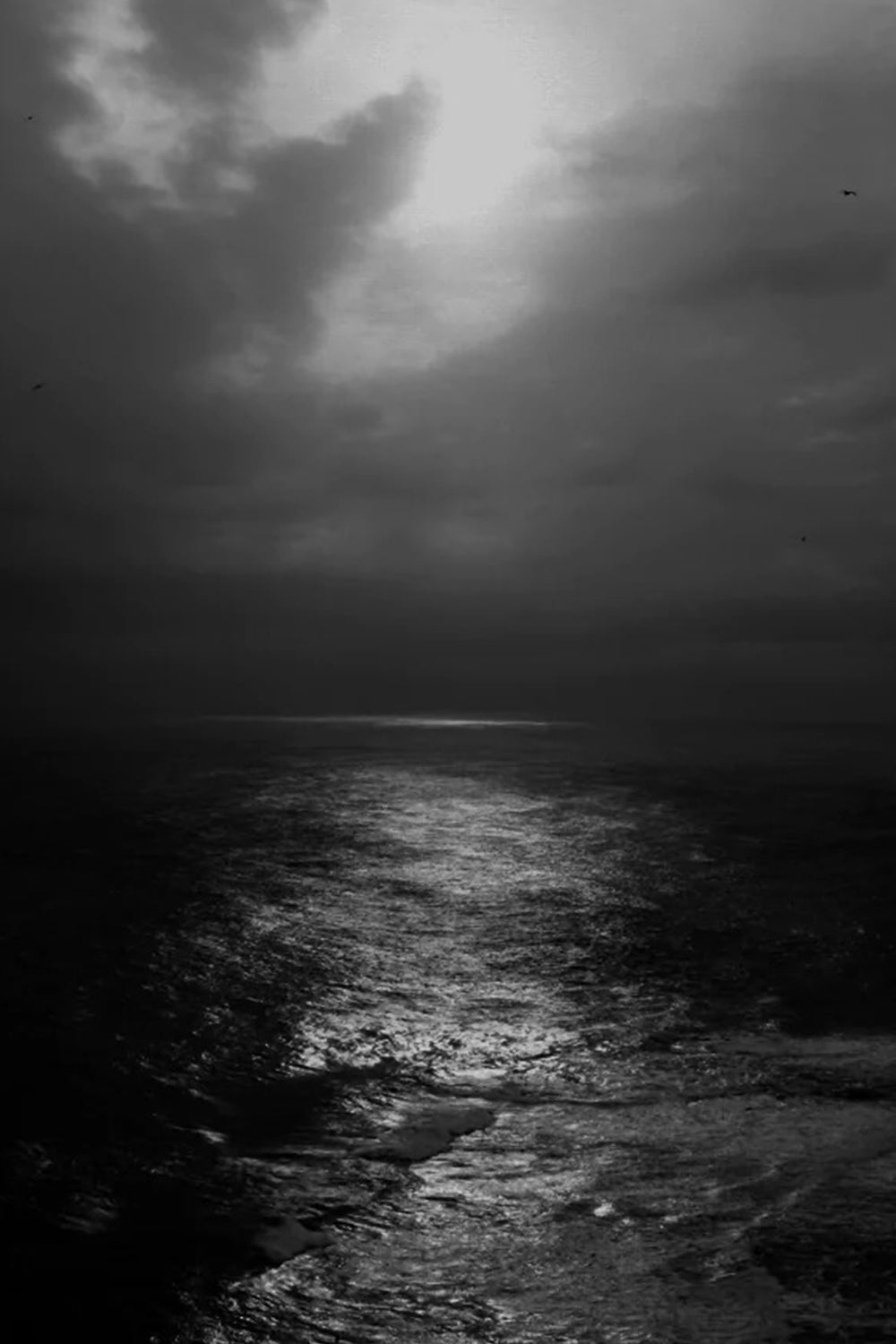 THIS EDITION
A TRANSITION OBJECT
Incense is a ritualized, short moment in time, for transition, for grounding, or for cognitive travel.
The burning ritual allows us to recodify a space for new usage and transition into different moments throughout the day, from creation, and recreation, to rest.
To offer this object and time reflection experience, ŌMNI was originally made for the Isamu Noguchi Museum, in relationship with Folie à Plusieurs in 2021.
For this edition, we continue with the producer Sandhelden to create a new batch run of the listening-object.
RITUAL ENSURES OUTCOME
The temporality of incense teaches us of the contradictory nature of presence - To be aware that you are here while being aware that you are not there… Or somewhere else.
During the short period of burning, the listener is mindful of the moments between lighting, listening, and extinguishing, while simultaneously being transported to the place of memories or creative imagination.
Here, and not here. Permanent and permeable as the drifting and dissipating smoke.
Like a meditation, creating the space to be both present and to let go can feel a counterintuitive pursuit.
Despite this contradiction, the activity heightens the awareness in whichever direction you find yourself facing.